Un cadeau à s'offrir....ou à offrir │ Gift yourself...or someone else
Le succès de votre session Boudoir repose entièrement sur votre regard.
La beauté correspond à tous les types de corps et tous les âges
​​​​​​​
The success of your Boudoir session is based entirely on your gaze.
Beauty is all body types and all ages
SÉANCE PHOTO ENTIÈREMENT GUIDÉE
NOMBREUSES POSES FÉMININES & PROFESSIONNELLES

LUMIÈRE AMBIANTE & STUDIO
NUMEROUS PROFESSIONNAL & FEMININE POSES
Êtes-vous de style Dentelle?  Satin? Latex?  ou Cuir?  
Is your style Lace? Satin? Latex? or Leather?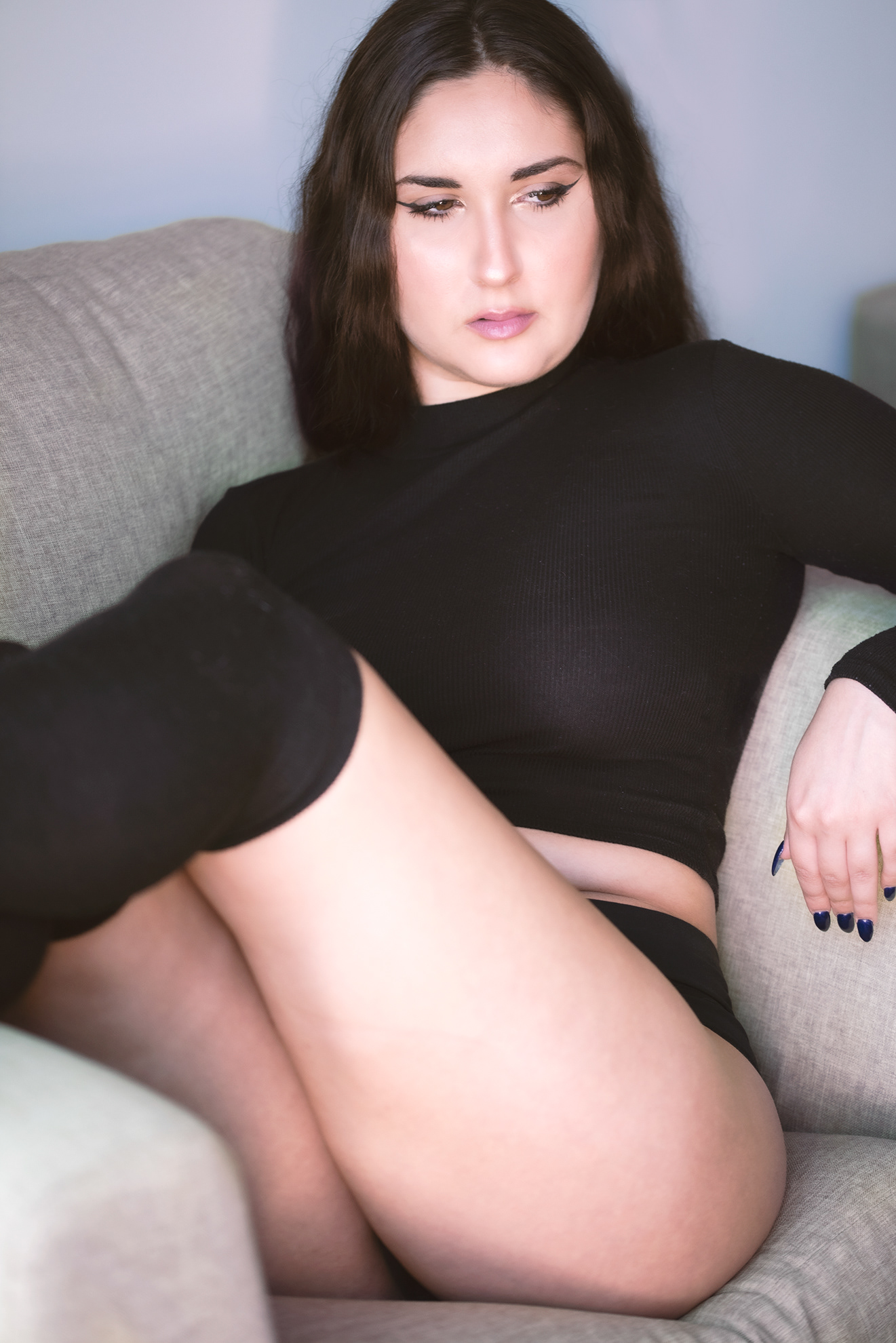 As a woman and a photographer, I understand how you feel. You may walk into the room feeling slightly nervous (it is only normal !). I promise you: you will walk out feeling empowered, confident about yourself and beautiful.
I pride myself in providing top notch experience to my clients as well as stunning images. It is much more than just picking up the camera. It is pampering, bespoke shoot design and styling, and being your posing coach and confidant for the day.
En tant que femme et photographe, je comprends ce que vous ressentez. Vous pourrez vous sentir légèrement nerveuse (c'est tout à fait normal !). Je vous promets que vous partirez vous sentant puissante, belle et confiante en vous.
Je suis fière de fournir une expérience de premier ordre à mes clientes ainsi que des images impressionnantes. C'est bien plus que simplement manier l'appareil photo. C'est un moment pour se dorloter, une conception et un style de mise en  scène sur mesure, et pour moi d'être votre coach de pose et votre confidente pour la journée.
Votre regard révélera une femme Coquine? Romantique?  Angélique? ou Sexy?  
Your gaze will reveal a Naughty? Romantic? Angelic? or Sexy woman?
Styles de photographie de boudoir Studio et lumière natuelle disponibles
Studio and ambiant light boudoir styles of photography sessions available
Le Boudoir est un style de photographie qui pose un regard sensuel sur vous et votre corps.  Anciennement, le boudoir était un petit salon élégant, qui était à l'usage exclusif des femmes.   Nous élaborerons ensemble les poses et les vêtements que vous porterez. 
Vous choisirez le degré de dévoilement de votre corps selon votre aise.  N'hésitez pas à vous offrir ce cadeau. 
Boudoir is a style of photography with a sensual focus on you and your body.  Formerly, the boudoir was a small elegant lounge, exclusively for the use of women.    We will work out the poses and the clothes you will wear together. 
 You will choose the degree of disclosure of your body according to your ease.  Do not hesitate to give yourself this gift.
 Caroline Forget +Photographe de +boud

oir +Vaudre

uil-Dorion; Photographie de boudoir; Photographe de boudoir dans la région de Vaudreuil-Soulanges, l'Ouest de l'île et Montréal
Caroline Forget Boudoir +photographer; Boudoir photography; Boudoir photographer in the Vaudreuil-Soulanges area, the West Island and Montreal